WINDSONG DRESSAGE
…we take our riding seriously and have fun doing it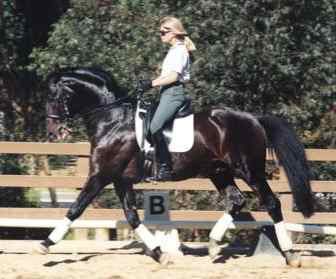 Ulla Hudson has ridden and trained through Grand Prix. She is an internationally qualified dressage and Icelandic teacher, instructor, trainer and rider. She is available as a clinician for dressage and Icelandic clinics in Europe, Central, South & North America. She is an experienced clinician at all levels through FEI. Clinics are in English, German or bilingual.
Ulla was born in Germany. She has a lifetime of experience with horses of all types. She is a certified Riding Instructor by the German National Equestrian Federation (German F.N. Trainer "A" license). She teaches riding and dressage around the world. She lives in the United States, between Santa Fe & Albuquerque in New Mexico. Ulla has the German FN Gold, Silver &Bronze Medals, and the USDF Gold, Silver & Bronze Medals. She has shown, ridden and trainedhorses from Training Level to Grand Prix.
Ulla has trained in dressage around the world under such well known teachers as Christine Traurig, Kyra Kyrklund, Charlotte Bredahl, Kathleen Raine, Rudolf Zeilinger, Gerd Zuther, Sonja Vracko, Rick Klaasen, Shirley Rector, Hubertus Schmidt and Debbie McDonald. She rode and trained the Westfalen stallion Widor to Grand Prix and the imported Oldenburg mare Rising Sun, from First level to Intermediare II. In 2006 she was the USDF Region V Champion at Intermediare I on Rising Sun. Early in her career, she was undefeated in all eight, second level classes at Pantano in 1998.
Ulla introduced the Icelandic horse to New Mexicoand has continued to train, breed and import Icelandics. She is married to well known Albuquerquephysician coach, Patrick Hudson MD, FACS, BCC. Dr. Hudson is a native of England, and a longtime supporter of dressage in the United States. He has sponsored dressage and Icelandic Clinics, and has sponsored the national USDF symposium featuring Conrad Schumacher
QUALIFICATIONS
USDF Gold, Silver and Bronze Medals,
German F.N. Gold, Silver and Bronze Medals
Reitlehrer, German F.N. Trainer "A" license, German FN
USDF Region V, Champion Intermediare I, 200
She has ridden and trained to Grand Prix.